Conception et réalisation d'un dispositif de caractérisations magnétiques 2D en température
The physics at play when a magnetic material is under a rotationnal flux density B or an alternative one cause differents behaviours to appear. The anisotropy existing (due to cristalline structure) in most electrical steels for 50 Hz applications amplifies these behaviours. Nevertheless, no study exists coupling temperature and anisotropy, despite a known influence on magnetic properties under alternating magnetization. Here, the design and implementation of a two-dimensionnal characterization setup allowing for temperature control is presented, along with some early results. MOTS-CLES-Anisotropie magnétique, Caractérisations magnétiques, Champ tournant, Etude en Température.
Les phénomènes physiques mis-en-jeu dans un matériau magnétique soumis à un champ B alternatif ou rotatif diffèrent partiellement, ce qui aboutit à des comportements différents. Ces derniers sont accentués par l'anisotropie présentée par la plupart des tôles magnétiques utilisées dans les applications à 50 Hz (transformateurs/machines tournantes). Néanmoins, ces comportements n'ont pas été étudiés lorsque croisés avec l'influence de la température du matériau, qui est pourtant connue comme ayant une influence majeure sur les propriétés unidirectionelles. La mise en place d'un système de caractérisations magnétiques 2D permettant d'imposer la température de l'échantillon est ici présentée, ainsi que quelques premiers résultats.
Fichier principal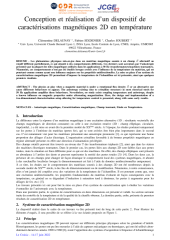 Abstract_V3.pdf (3.43 Mo)
Télécharger le fichier
Origin : Files produced by the author(s)